You are here
Back to top
By the Light of the Moon: A Novel (Paperback)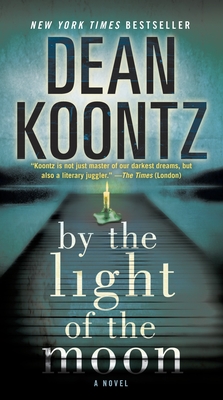 Description
---
NEW YORK TIMES BESTSELLER
 
On the road, on a hot Arizona night, Dylan O'Conner is overpowered by a stranger who injects him with an unknown substance. All he's told is that he's the "carrier," not of a disease but of something wondrous that will transform his life in remarkable ways—if it doesn't kill him in the next twenty-four hours. Now Dylan, his autistic brother, Shep, and another "carrier," a young woman, are swept into a desperate search for the shattering truth of what they are and what they might become. But first they must elude those sent to destroy them. Their only chance to survive is to discover the meaning of the messages that Shep, with precious time running out, begins to repeat, about a man who does his work by the light of the moon.
About the Author
---
Dean Koontz, the author of many #1 New York Times bestsellers, lives in Southern California with his wife, Gerda, their golden retriever, Elsa, and the enduring spirit of their goldens, Trixie and Anna.


Praise For…
---
"Koontz is not just master of our darkest dreams, but also a literary juggler."—The Times (London)
 
"The poet laureate of paranoid pop fiction . . . Readers . . . will find themselves rushing pell-mell to the book's end."—The Denver Post
 
"Perhaps more than any other author, Koontz writes fiction perfectly suited to the mood of America post–September 11: novels that acknowledge the reality and tenacity of evil but also the power of good; that celebrate the common man and woman; that at their best entertain vastly as they uplift. By the Light of the Moon is one of those best, exciting and deeply moving."—Publishers Weekly (starred review)